Organization of Future Entrepreneurs Hosts Dinner with an Entrepreneur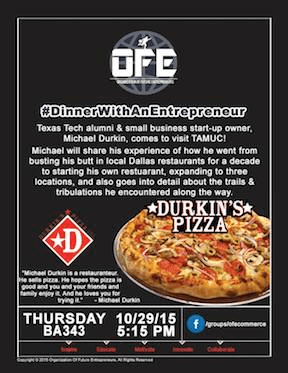 The Organization of Future Entrepreneurs (OFE) will host Michael Durkin from Durkin's Pizza for Dinner with an Entrepreneur on Oct. 29 from 5:15 p.m. to 7p.m. in the McDowell Administration Building room 343.
"Michael Durkin is a small business entrepreneur who started a local pizza chain in North Dallas called Durkin's Pizza," said OFE Vice President Thomas Lam. "He is coming to Commerce to speak to students about his experience and teach students how to make an impact."
Durkin's Pizza has now expanded to three locations in North Texas. The event is open to all students and a limited amount of pizza will be provided.