A&M-Commerce Student Receives International Design Award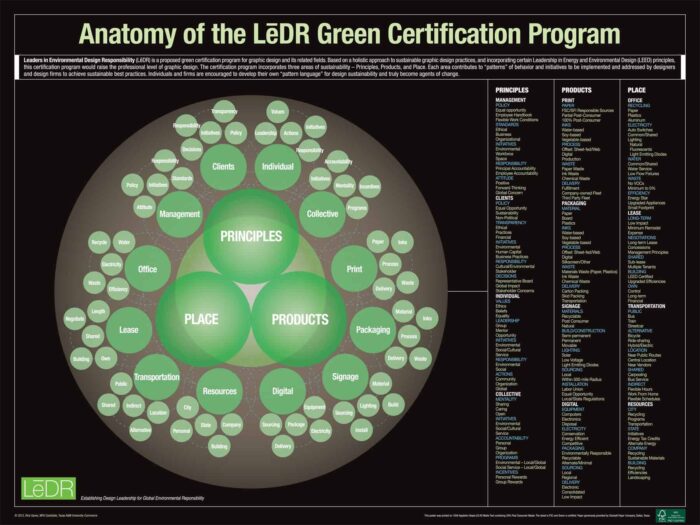 Rick Gavos, master's student at Texas A&M University-Commerce, recently won one of the AIGA (Re)design Awards at the 2013 AIGA National Design Conference in Minneapolis.
This international design competition honored 34 graphic designers and visual communicators for their commitment to design that not only looks good, but also strives to improve the lives of people and impacts on our planet. The winning designs included seven student projects and 27 professional projects representing 14 states and three countries.
"I was truly honored by the AIGA and its (Re)design Awards international competition," said Gavos. "It not only underscores the work on my MFA thesis, but validates the MFA program in Dallas and the education I received from Texas A&M University-Commerce."
His MFA thesis, entitled "The Sustainable Design Office: LEED-type Certification for Graphic Design", defines parameters for green graphic design practices including: employing current graphic-arts-industry environmental practices, overlaying select architectural LEED certification criteria, and creating a holistic approach to best practices in the graphic design profession.
Currently, there are no professional policies for environmental responsibility for the graphic design profession. This proposed certification program, Leaders in Environmental Design Responsibility, would serve as a path to green graphic design practices.
The AIGA (Re)design Awards celebrate the most influential designs that advocate for strong communities, sustainable environments and thriving economies. Their mission is to celebrate design willing to reach for excellence on all levels. Eligible projects included print, packaging, advertising, web and multi-media projects completed within the past two years. Design submissions were judged on overall craftsmanship, creativity and effectiveness in considering environmental, economic, social and cultural impacts. For more information on the (Re)design Awards and to see the award winners, go to http://www.aigaredesignawards.com/.
Founded in 1914 as the American Institute of Graphic Arts, AIGA is professional association for design, advances design as a professional craft, strategic advantage and vital cultural force. AIGA remains the oldest and largest professional membership organization for design, and brings together practitioners, enthusiasts and patrons to amplify the voice of design and create the vision for a collective future. For more information on AIGA go to www.aiga.org.