A&M-Commerce Chorale Performs for More Than 1000 at Music Educators Convention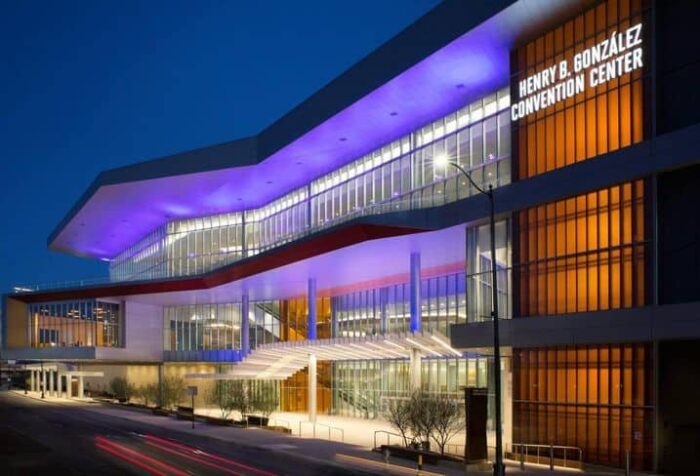 For the first time in at least four decades, the A&M-Commerce Chorale was invited to perform at the 2019 Texas Music Educators Association (TMEA) Convention. Over 60 students, faculty and staff performed before a crowd of more than 1,000 at the Henry B. Gonzalez Convention Center in San Antonio in February.
The theme for the performance was "Words." According to the performance program, "Words are powerful. And yet words are inadequate. The music of this concert explores the mystery of this paradox."
The concert lasted for 50 minutes and included performances by 56 A&M-Commerce students in the University Chorale; five A&M-Commerce faculty on brass and percussion; one staff accompanist; four students on brass, flute and percussion; and outside performers on violin, harp and organ.
A variety of musical pieces were featured in the concert including "The Rumor of a Secret King" by John Mackey, "Words Fail" from "Dear Evan Hansen" by Benji Pasek and Justin Paul and arranged by Randall Hooper, and "Gloria" by Michael John Trotta in its world premiere.
"It is an honor to be selected to perform at this convention," said Dr. Randall Hooper, director of choral activities at A&M-Commerce. "Being selected to perform is also the single best recruiting tool for the Department of Music Vocal Division."
Only two university choirs were selected to perform at this year's convention. The selection process included a blind, juried audition where choirs submitted recordings from previous performances representing the last three years.
TMEA is the nation's premier music educators convention and has been promoting excellence in music education since 1920.