Department of Computer Science and Information Systems :: Explore Our Programs
Explore Our Programs
This program will prepare you for a wide variety of applications found in the diverse computing and information technology fields. With a strong foundation in programming, database technology, data structures, computer networks and application program development you will have the skills and knowledge you need to succeed as an application analyst, data analyst, data scientist, information systems management and other information technology fields.
Where It Is Offered
Bryan (RELLIS), Commerce, Corsicana (Navarro College)
Foreign Language
No foreign language credits required
Delivery
Combination, Face-To-Face
Total Credit Hours
120 hours
Thesis Requirements
No thesis required
Back to menu
Department of Computer Science and Information Systems :: Featured News
News Spotlights
TAMUC Teams up With North Texas Universities to Provide Cross-Institutional Learning
A 50-year partnership among three North Texas universities provides impactful cross-institutional learning opportunities for graduate students. The Federation of North Texas Area Universities brings together Texas Woman's University (TWU), the University of North Texas (UNT) and Texas A&M University-Commerce. The consortium was created in 1968 by the Texas Legislature, with the help of the Texas […]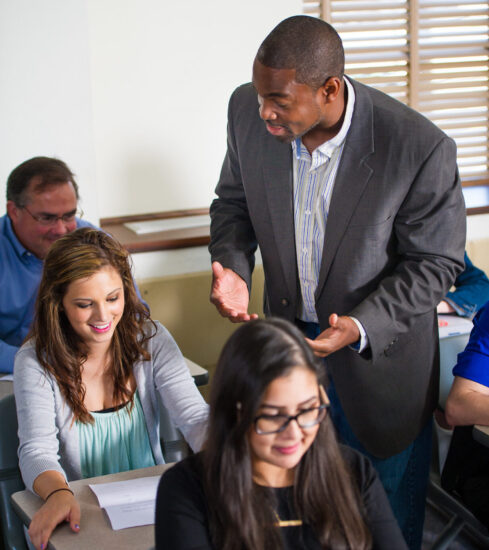 TAMUC Department of Chemistry to Receive Research Funding
The A&M-Commerce Department of Chemistry is the recent recipient of a grant from The Welch Foundation, one of the nation's largest private funding sources for chemical research at universities, colleges and other educational institutions in Texas. The foundation supports degree programs in chemistry, biochemistry or chemical engineering. The foundation's departmental grant program will award A&M-Commerce […]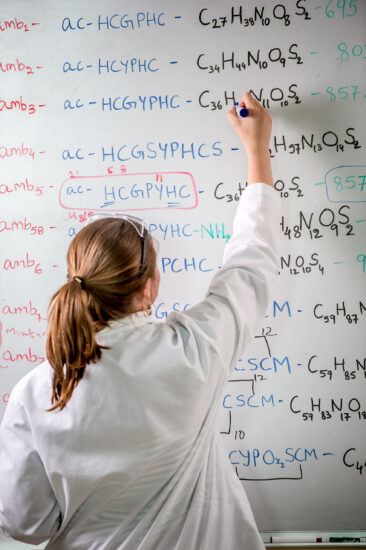 TAMUC Students Represent University at American Physical Society Meeting
Undergraduate students representing the Department of Physics and Astronomy at Texas A&M University-Commerce recently delivered talks at a virtual meeting of the Texas section of the American Physical Society hosted by the University of Texas at Arlington November 12-14. Flint Morgan, Rebecca Preston and Amber Stinson presented their research on neutron stars, which was supervised […]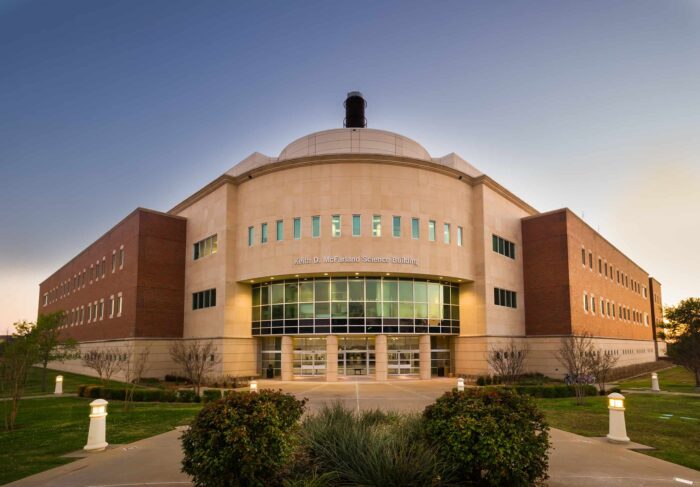 A&M-Commerce Alumna Named Rookie Science Teacher of the Year
The Science Teachers Association of Texas (STAT) recently named Cheyenne Hunter as its Rookie Science Teacher of the Year. Hunter earned her bachelor's degree from Texas A&M University-Commerce, specializing in mathematics and science. Hunter teaches sixth-grade science at O. Henry Elementary School in Richardson, Texas. In her first year at the school, she hosted the […]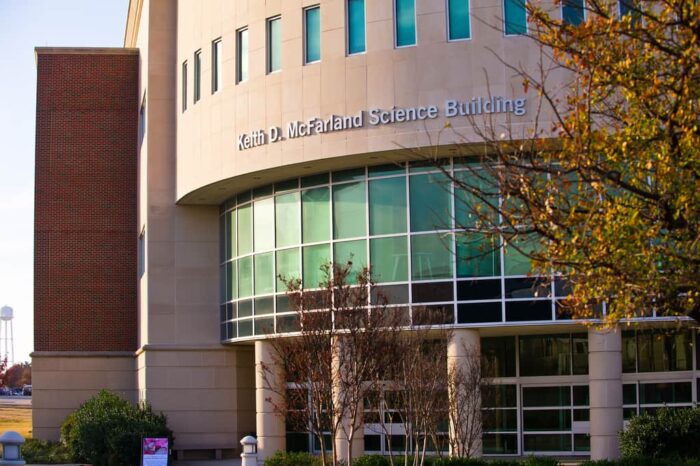 A&M-Commerce Students Build Rube Goldberg Machine
A group of A&M-Commerce engineering and physics students recently designed and built a Rube Goldberg machine in the Jimmy and Sherrol Shirley Makerspace on campus, under the direction of A&M-Commerce engineering faculty members Dr. Perry Moler and Patrick Carter. The group included electrical engineering students Caleb Otte, Devin Beamon and Rhiannon Roberts, and physics student […]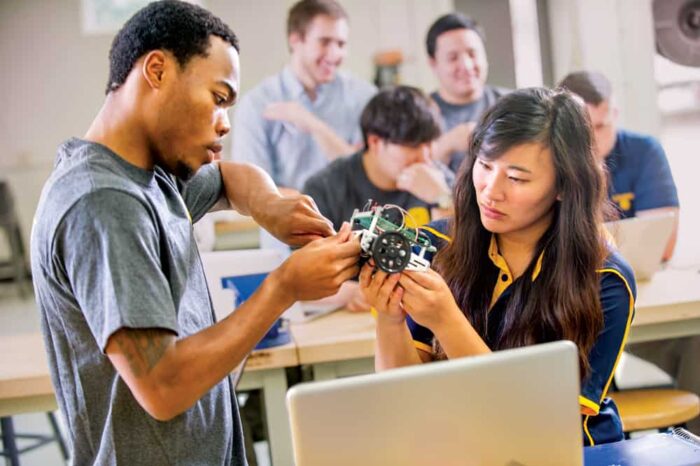 A&M-Commerce Planetarium & Observatory Offer the Universe to Students and Community
The Planetarium and the Observatory at Texas A&M University-Commerce offer an astronomical amount of knowledge to students and the community. Located on the first floor of the McFarland Science Building, the Planetarium features a Digistar 5 all-digital projection system and 87 reclined seats within a 40-foot dome, surrounding viewers in a space environment filled with […]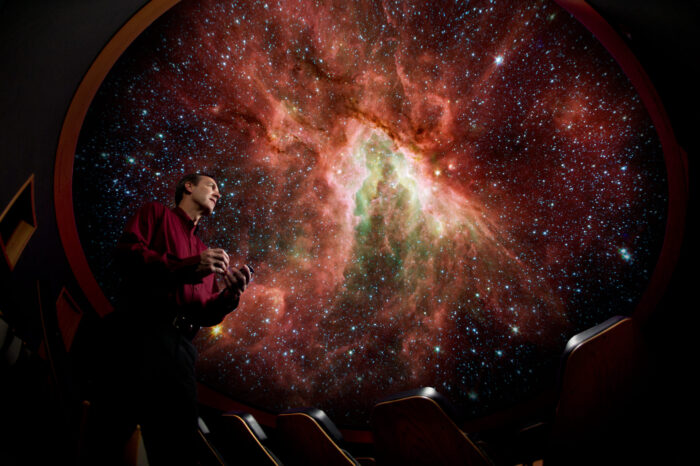 A&M-Commerce CSIS Professors Awarded Grant from National Science Foundation
A&M-Commerce professors of computer science and information systems, Dr. Omar El Ariss, Dr. Dongeun Lee and Dr. Kaoning Hu have been awarded a three-year grant from the National Science Foundation for their research project titled, "Multilingual Computational Thinking: Teaching Introductory Programming Classes Through Low-Level and High-Level Programming Languages." The project intends to teach computational thinking […]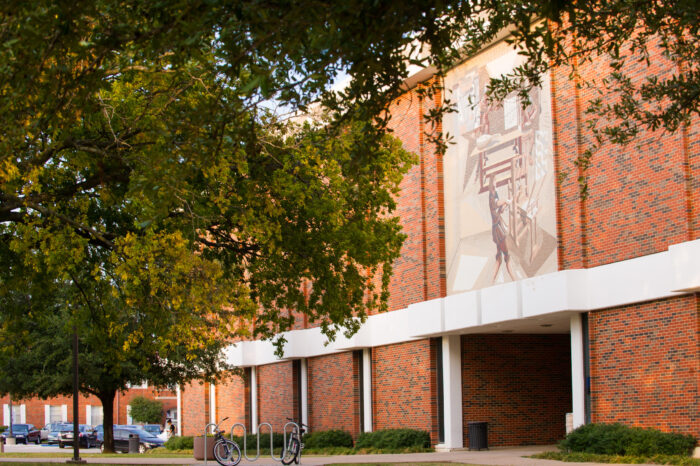 A&M-Commerce Professors Named Faculty Fellows at Texas A&M University Cybersecurity Center
Professors Srujan Kotikela and Eman Hammad were recently named Faculty Fellows at the Texas A&M University Cybersecurity Center in College Station, Texas. Cybersecurity Center Faculty Fellows are members of the Texas A&M University System who work together to further cybersecurity education, research and outreach. The faculty includes five professors from Texas A&M University, in addition […]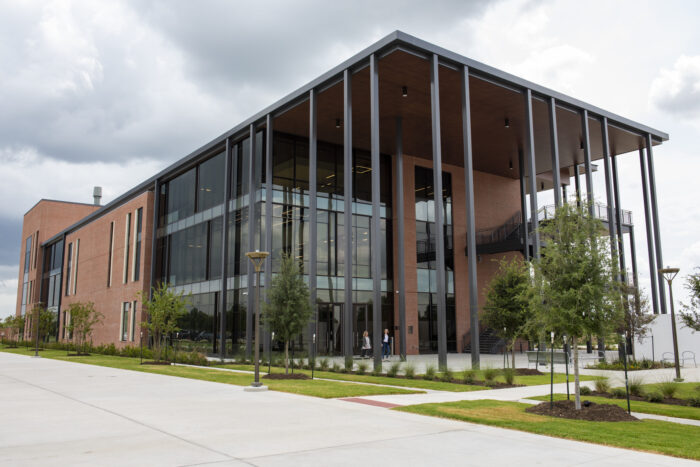 First Graduates of A&M-Commerce Electrical Engineering Program Announced
A&M-Commerce alums Charlie Didear and Craig Anderson made history this month as the university's first two electrical engineering graduates. Dr. Andrea Graham, head of the Department of Engineering and Technology, and faculty member Patrick Carter recently presented them with commemorative shadow boxes—which Carter made himself—to celebrate their historic significance as the program's first graduates. Didear, […]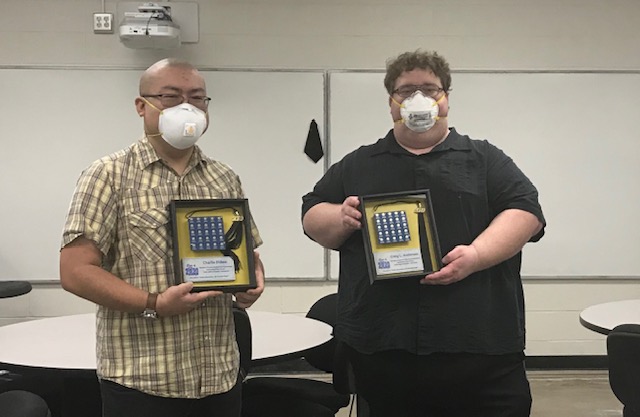 A&M-Commerce Computer Science Student Wins IMCS Group Coding Challenge
Texas A&M University-Commerce Computer Science student Brian Taylor was announced as the first-place winner at the IMCS Group Coding Challenge. The challenge was held on Friday, February 21 at A&M-Commerce. The first-place prize was a $1,000 scholarship. The challenge was to help expose students to real-world problems and cultivate their technical and problem-solving skills. Participants […]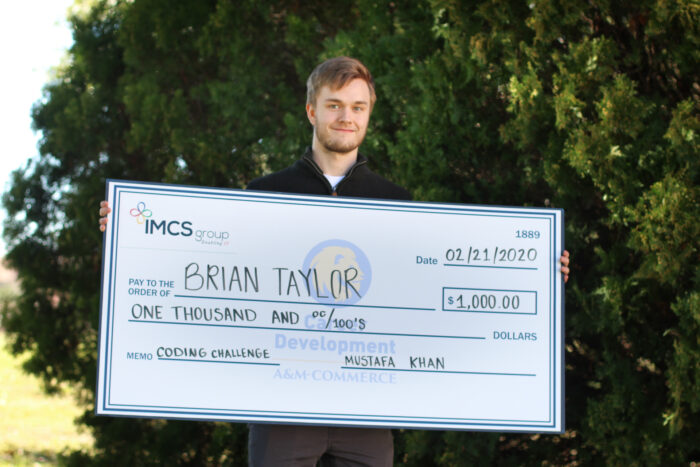 Back to menu
Department of Computer Science and Information Systems :: Student Organizations Copy
Student Organizations
Epsilon Delta Pi
This organization encourages excellence in computer science by promoting the computer science profession, giving recognition to computer scientists who display professional achievement and quality of character and supporting those who work together to bond interested students.
ACM
The Association of Computing Machinery (ACM) is an international scientific and educational organization dedicated to advancing the art, science, engineering and application of information technology. ACM serves both professional and public interests by fostering the open exchange of information and promoting the highest professional and ethical standards.
Back to menu
Department of Computer Science and Information Systems :: Scholarships
Scholarships
As a computer science and information systems student, you have access to a wide range of scholarships specific to your degree.
Back to menu
COMPUTER SCIENCE AND INFORMATION :: RESEARCH PUBLICATIONS AND GRANTS
Our Research
Our computer science and information system faculty are excited to develop your knowledge and skills through research. Opportunities are available for both undergraduate and graduate students. We encourage you to discuss any research interests with your professors.

Counseling Center Services
9:00-10:00 a.m.
This presentation includes Counseling Center Services offered as well as helpful tips in managing stress and anxiety when it comes to adjusting to college.
Fraternity and Sorority Life at TAMUC
10:00-11:00 a.m.
Fraternities and Sororities have been an integral part of the Lion student experience. Making up roughly 10% of the full-time undergraduate student population with close to 550 members across four councils, Fraternity and Sorority Life members strive to uphold the values of academic excellence, campus involvement, philanthropy and Lion spirit. Joining a fraternity or sorority is a lifetime commitment, a commitment that will benefit you during your time on campus and after graduation. Our community has so much to offer you. It is comprised of chapters that are individually unique, but together, create a united community. We hope there is a chapter home for everyone at TAMUC. We encourage you to explore Fraternity and Sorority Life and all it has to offer.
Teaching Certifications – EC-6 or 4-8
11:00-12:00 p.m.
Learn about our comprehensive year-long, field-based teacher education program – which teaches you effective pedagogy and provides you with an abundance of training in the public schools. We supply you with all the tools you'll need to be a successful teacher in grades head start – up through 8th grade. Q&A session at the end – so you can get all your questions answered. Touch a life forever – be a teacher!
Virtual Tour
12:00-1:00 p.m.
Get a glimpse of campus by going a virtual tour with our Lion Ambassadors.
Parent & Family Q&A Session
1:00-2:00 p.m.
Your student has a checklist of items that need to be completed before starting classes and so do you. In this session, the presenter will dive into the parent and family checklist so you can support your student during this transition from high school to college. This session will be interactive with opportunities to share your own knowledge if this is not your first student to attend college.
Showcase of Computer Science
2:00-3:00 p.m.
In this section we will introduce the Department of Computer Science and Information Systems. We will introduce the faculty, staff, undergraduate programs, graduate programs, and courses. We will also show the statistics of the job marketing of our graduates.
Admissions Questions and Issues
2:00-3:00 p.m.
Join Undergraduate Admissions representatives to answer any questions you may have.
Directions to the Degree
3:00-4:00 p.m.
Success Teams are here for you! Get your guide on how to be a successful college student and navigating your way through the four years here at Texas A&M University-Commerce.
First-Year TRAC, We've Got Your Back!
4:00-5:00 p.m.
There is more to going to college than how well you perform in the classroom. A great college experience is bigger than that. The First-Year TRAC program will immerse you in a range of challenging and rewarding experiences all designed to help you get connected and create a pathway to success. Learn more about our First-Year TRAC program at A&M-Commerce.
Gain expertise in computational linguistics and natural language processing. Our graduate certificate is designed for students in computer science and linguistics.
There are 3 main projects in the Starnes research group.
The Development of Synthetic Hosts for Anion Recognition Applications
The Development of Synthetic Hosts for Chiral Recognition Applications
The Development of Molecular Switches
Project 1: The Development of Synthetic Hosts for Anion Recognition Applications.
One aspect of the Starnes research group is centered on the development of synthetic receptors for anions of environmental and biological significance. Environmentally, many anions (such as perchlorate, nitrate, nitrite, sulfate and pertechnetate) present themselves as toxic and problematic contaminants in lakes, rivers, aquifers, nuclear waste repositories etc. We aim to develop sensors and extraction agents for these anions. There are also many anions of biological importance such as DNA, RNA, proteins and peptides. The development of receptors for these analytes has diagnostic applications in the monitoring of cellular processes.
The research utilizes computational software to design the artificial receptor on a computer, analyze its conformational preferences computationally and then evaluate the receptors molecular recognition properties computationally. Receptors showing promise computationally are then synthesized in lab and studied for their anion recognition properties.
Project 2: The Development of Synthetic Hosts for Chiral Recognition Applications.
The research group is working to modify hosts previously prepared in the research group that have been shown to function as stereoselective hosts for chiral guests in order to 1) improve on the selectivity of these types of hosts in their guest binding properties and 2) to learn more about the conformations of the hosts and host-guest complexes which will allow the group to improve on host design. One practical result from the work is that it will lead to a better understanding of biological chemistry. Chiral compounds are important, especially in biological chemistry. For example, one enantiomer of a chiral drug is useful whereas its enantiomer might be toxic or deadly. Many biological substrates and structures are chiral as well (such as proteins and what they act on or the product of an enzyme catalyzed reaction). By understanding chiral recognition better, we can understand biological chemistry better or biological recognition in general better. Understanding the structures of the hosts and their complexes will contribute to a better understanding of the requirements for selective chiral recognition. The research could also impact the design of sensors for chiral species, the development of catalysts for chiral synthesis and the separations industry (for the separation of chiral substances such as enantiomeric molecules, which would greatly impact the pharmaceutical industry since one enantiomeric of a chiral drug might be toxic and therefore must be isolated and removed from the drug mixture).
Project 3: The Development of Molecular Switches.
A molecular switch is a molecule or set of molecules that will undergo a pre-defined shift between two or more distinct states in response to a specific stimuli. A schematic illustrating the basic concept is below. There is interest in the development of molecular switches for a variety of applications such as in nanotechnology for application in molecular computers (the different states can represent the binary numerical system 0 and 1).
For this project, we will develop synthetic host compounds that contain a mechanism for a switching stimuli that arises from the stereochemistry (3D shape) of a guest which binds to the host. Depending on the absolute stereochemistry of the guest, the host will exist in one of two different conformations; if the host can exist in conformer A and conformer B, when one enantiomer of a guest binds to the porphyrin host, the host will adopt conformer A. When the opposite enantiomer of a guest binds to the host, the host will adopt conformer B. We aim to utilize 19F-NMR, Circular Dichroism (CD), and fluorescence spectroscopy to determine which conformer the host exists in (and hence determine which stereoisomer of guest is bound). If successful, we will be able to determine the absolute stereochemistry of a guest or the stereo composition of a mixture of enantiomers from the 19F-NMR, CD or fluorescence response. This will represent a major advance is chiral discrimination using spectroscopic methods. The knowledge gained from this study will contribute to a better understanding of the requirements for selective chiral recognition. This type of system could find use in the pharmaceutical industry for example for high-throughput enantiopurity determination of chiral pharmaceutical agents.
A student working on any of these projects will be trained in synthetic organic chemistry, including the synthesis, isolation, purification and identification of organic compounds. The student will use techniques such as computational chemistry, NMR, IR, circular dichroism, fluorescence and mass spectrometry to study the systems.
Most of the compounds that pharmaceutical companies make have specific properties in order for them to have biological activity. Even though some of these compounds may look very similar to other compounds and may even have the same molecular formulas, they cannot be superimposed on each other and hence are really different compounds. The human body can recognize such compounds as different and one compound will be biologically active and the other one poisonous. In order to make the desired compound in large excess, specific catalysts are often used. These catalysts have to be carefully designed in order for them to give the desired product in larger quantities, compared to other similar compounds that may be produced in the reaction. An important tool that is often used to gain a rational design of such molecules is to use computer modeling. There are presently some very effective catalysts that are used to accomplish these asymmetric syntheses, but a major problem associated with their use for these asymmetric transformations is that they are not easily recovered and recycled. As a result, large amounts of catalysts are typically used, especially in industry, which poses a serious disposal problem. In this research, new categories of recyclable homogeneous organocatalysts are developed and are very effective in giving desired asymmetric compounds. These organocatalysts are unique in that they contain ionic liquid moieties, which convey a wide range of properties to the catalysts. As a result, these ionic liquid-supported (ILS) organocatalysts are tunable and their properties can be adjusted to meet a wide variety of reaction conditions. The proposed project has three aspects:
REU students will gain the experience of synthesizing organocatalysts and utilize state-of-the-art instrumentation for their characterization
Students will utilize newly synthesized organocatalysts to catalyze specific asymmetric reactions of organic chemistry
Students will utilize the Spartan software to carry out computational modeling studies to assist in the design of effective organocatalysts for these reactions.
Coding theory has traditionally been used for detection and/or correction of errors in noisy communication channels. More recent applications include data storage, data compression, cloud computing and cryptography. Coding theory is an inter-disciplinary subject with connections to computer science, electrical engineering and many branches of mathematics. This research focuses on construction and decoding of error-correcting codes obtained from discrete and algebraic structures.
Robotics and autonomous systems are used in a wide variety of environments and applications such as power line inspection, automotive manufacturing, construction, precision agriculture and emergency rescue. Robotics and autonomous systems combine computing, sensing, communication and actuation to perform a series of intelligent operations in complex and diverse environments. Researchers at A&M-Commerce investigate autonomous driving sensing and perception, human-computer interaction, and motion planning and control.
Back to menu
Department of Computer Science and Information Systems :: Meet our Faculty and Staff
Meet our Department
Back to menu
Department of Computer Science and Information Systems :: We are Here to Help! Copy
We are here to help!
Back to menu
Department of Computer Science and Information Systems :: Contact
Contact Us
Department of Computer Science and Information Systems
P.O. Box 3011
Commerce, TX 75429-3011
Back to menu